Fast & Affordable Complete A Kurtz Bags Bag Repair | By Mail
Does your favorite A Kurtz Bags bag or clutch need some love? Favorite Fix handles all types of A Kurtz bag repair for Women's A Kurtz handbags and A Kurtz bags. Let us know what kind of bag repair service your favorite item needs:
Leather bag repair
Handbag A Kurtz strap repair
Leather repair / color and restoration
A Kurtz bag liner cleaning
bag liner replacement or liner stitching
Replace A Kurtz clasp
What Kind Of Bags Do You Clean & Repair?
We can help you with ANY kind of bag, but we primarily specialize in helping care for:
Fashion Bags
A Kurtz Tote Bags
A Kurtz Clutches
Wallets
A Kurtz Handbags
Crossbody Bags
Messenger Bags
A Kurtz Shoulder Bags
A Kurtz Satchel Style
Where Can I Find A Kurtz bag Repair Near Me? What Areas Do you Service? What's the closest location?
Looking for A Kurtz bag repair near me? Is your mailbox close enough for your A Kurtz bag service? We service all 50 States as well as Puerto Rico and the U.S. Virgin Islands via USPS mailing. As long as you have access to a USPS mailbox or store you can use Favorite Fix to get that favorite accessory fixed. Priority shipping will usually reach us in just 2-3 days no matter where you are in the country.
What Does A Kurtz Bag Repair Cost? What Is The Average A Kurtz Tote Repair Price?
A Kurtz bag repair prices range from $10 to $200 depending on the repair service, but at FavoriteFix we offer top quality work at the best prices.
Leather bag repair: Starting at $20
Sole protectors addition:$5+
Handbag Liner cleaning or repair: $15+
A Kurtz leather bag repair, dying or refinishing: $20+
Handbag handle repair: $20+
How Long Does A Kurtz Bag Repair Take?
The usual bag repair timeline is 2-4 weeks including our return shipping time. The range depends on exactly what service your bag needs and whether we need to order any special parts like a A Kurtz buckle or A Kurtz clasp for replacement. Once we have received your bag, our master craftsman will do a complete inspection and share the details with you.
Professional, High Quality A Kurtz Repairs, Restoration & Service
Our A Kurtz craftsmen are artisans with decades of experience who have seen it all and can handle any repair or refurbishment of your bag, handbag or bag needs. We use manufacturer quality materials or better – plus top quality customer service, shipping and experience. Trust your A Kurtz refurbishment to us and you won't be disappointed.
How Our Online A Kurtz Tote And Bag Repair Service Works By Mail
Our A Kurtz expert bag repair service is as Fast, easy & affordable as you'll find anywhere – and we come straight to you.
Request an estimate using our form
Ship us your bag or request our "bag Shipping Kit" (includes box, padding, service form & Pre-Paid shipping label to our workshop)
We'll inspect your bag and give you the final price (This is almost always within a few dollars of your estimate).
On your approval we get your bag looking like new and then send them straight back to your house.
Women's A Kurtz Bags, Totes Or Clutch Repair
A Kurtz makes top quality and extremely popular bags for women including A Kurtz bags, totes, satchels and everything in between. Favorite Fix offers service for all of them. Did your favorite A Kurtz tote get damaged? Scuffed? Need a new clasp or seam stitched? Eyelet replaced? Favorite Fix and get your A Kurtz looking and feeling like new in just a few days with our A Kurtz repair service. Our shoe services include anything you might need, but our most popular include:
A Kurtz strap replacement
A Kurtz leather repair and refurbishment
A Kurtz cloth repair and refurbishment
Eyelet, stitching and lace replacement
A Kurtz liner cleaning and repair
Full Service Bag & Tote Repair Solutions | 100% Via Mail
Favorite Fix offers any kind of bag repairs you may need and we do them via the mail to make it easy and fast for you. Let us know what bag or clutch service you need via our contact form and we'll send you an estimate via email. If the repair price is right, we'll coordinate your shipping and get it to our Denver based workshop ASAP.
Full Service Types Of Repair For Your Tote Or Bag
Leather or cloth repair and sewing
Bag stitching repairs
Attaching bag handle | straps
Clasp repair or fixing
Color matching
Bag, tote, clutch cleaning
A Kurtz Tote Style Bag Cleaning, Repair & Fixing
The classic tote bag design is typically an open topped bag with good depth and easy storage along with 2 parallel handles that allow it to be comfortably carried over your shoulder or in your hand.
With this design, the most common types of repairs we see are repairing worn parts around the handles, bag seams or attachments. Additionally, like most other bags they can often get stained, dirty or have small cracks in leather or tears from lots of use.
Clutch Or Wristlet Repair, Cleaning & Fixing
A A Kurtz clutch is traditionally a small handbag that is small enough to easily be carried in one hand or by tucking it under your arm. They have no straps or handles attached to them which makes them smaller, more streamlined and less bulky than more traditional bags. The smaller design obviously limits carrying ability so they are often used for more formal evening occasions where you may only need to carry a few critical items.
With a clutch not having any handles or straps the most common repair needs are often around cleaning, removing stains or fixing patches of wear or fraying seems.
Crossbody Bag Repair, Cleaning & Fixing
If you are a bit of a minimalist and like the A Kurtz clutch concept of a smaller or medium sized bag to carry just the essentials, but also want to keep you hands free you may be a big fan of the crossbody style bag that has a strap to wear securely across your shoulder.
Crossbody bags come in most often with fraying around the seams or edges, zippers that have stopped working or had the zipper fabric separate from the main bag body. Additionally, adding the strap begins to bring in the usual issues with strap separation or breaking, broken clips or clasps or staining or tears.
Shoulder Bag Repair, Cleaning & Fixing
Shoulder bags are closest to tote bags with a few key differences. The first and most notable is that a shoulder bag only has a single shoulder strap instead of a tote bag that has 2 separate straps.
Additionally, a shoulder bag is much more likely to have different storage options inside like different pockets, zippered pouches or organizers.
The most common repairs needed on a A Kurtz shoulder bag are repairs to zippers, straps as well as staining or tears. In particular people often need to repair the linings or interiors of the bag that have been damaged by carrying many different things or stained.
Messenger Bag Repair, Cleaning & Fixing
Messenger bags are a cross between a shoulder bag and a tote. The most often feature a wide strap to be worn over one shoulder and across your body for a secure and comfortable carrying. The bag itself is usually one large pocket with a fold over flap that can either be worn on your lower back or across your side. Some A Kurtz styles will have some interior smaller pockets or zippered pockets.
Messenger bags are often built to be very sturdy, so we usually see them coming in for cleaning or the repair of buckles. Usually the straps and seams hold up extremely well but in the case your messenger bag does need some seam repairs or straps reattached, that can usually be done!
A Kurtz Satchel Bag Repairs Or Fixes
Satchel bags come with a single shoulder strap and are most often designed to carry books or a laptop. So you will tend to find them in sizes that easily carry 8.5 x 11 paper or standard laptop sizes. The back of the satchel folds over like a messenger bag to create a closing lid. In many ways a satchel is similar to a briefcase, except that it has soft sides. You will usually find satchels made from leather as well.
Satchel repairs are most often around cleaning or removing of stains that have come from being an everyday use bag. Additionally repairs for satchel bags may include repairing or replacing their straps, tending to worn or split seams and replacing any broken buckles.
How Online Bag Repair By Mail Works
Getting your bag or tote bag repaired quick, easy & affordable. Once you get an estimate you can either ship your bag to the workshop, or request our shipping package. We'll send you a box and prepaid return shipping label. It arrives on your doorstep in just a few days. You can pack your bag up, apply our prepaid shipping label and send your bag back to us. We'll get it in a few days. We inspect your bag or tote for repairs and send you a full report. If you approve the costs, we get going ASAP. Once It's finished, we send your bag straight back to your house.
How Expensive Is Repairing My A Kurtz Bags Tote Or Fashion Bag?
The average bag repair costs about $45 dollars. Your exact cost will depend on the type of work needed which could range from simple stitch repair to complete refurbishment which includes leather work, buckles and cleaning.
Repairing bag or tote stitching is often around $25-$35 while other services like repairing buckles or order clasps may cost more depending on the cost of the part from your manufacturer.
Best A Kurtz Leather Bag Cleaner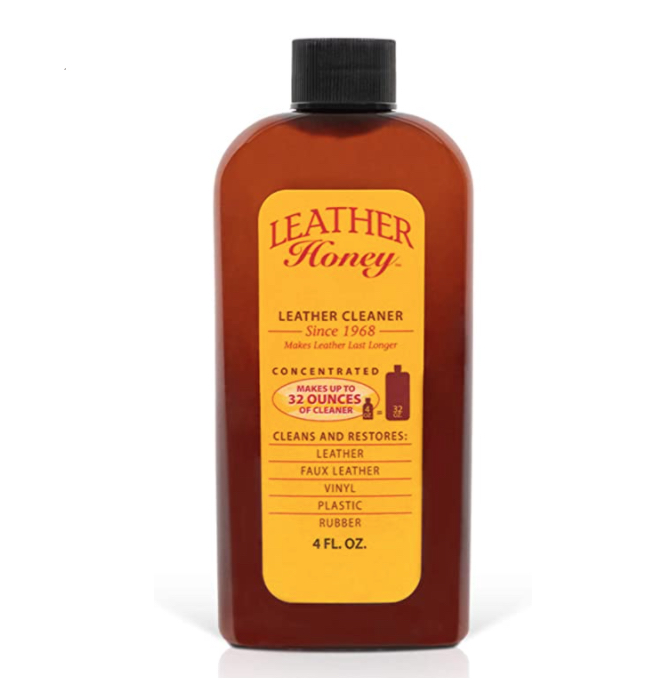 This is a highly recommended non-toxic leather cleaner for your A Kurtz bag, tote, should bag etc if it's made from leather and is a bit dirty. This product is powerful yet free of any chemicals that could harm your bag.
It's designed to remove dirt, oil, tough stains gently because the formula can be applied by simply rubbing. You don't have to scrub or rub. It also works on any color leather including black, white, brown, red and yellow. So no need to worry what color your A Kurtz bag is, this leather cleaner is a great choice.